A message from the owners;
Back in 2010, we turned our pizza franchise into an independent operation in Twinsburg, Ohio. From the start we agreed on a few basic principles: serve up delicious, handmade pizza, have the best lineup of appetizers, wings, subs & pastas in town and treat everyone who walks through the door like family.

Five years later, we moved to Brunswick, Ohio, updated to our new menu (specializing in Chicago Deep Dish pizzas & over 20 specialty pies inspired by GREAT cities around the states) and lots of new faces, but GAPCO is still committed to being the best place to share a world-class pie with your friends and family. Whether we deliver a light lunch, a first date or a little league championship celebration, you can always count on gathering around and sharing big smiles, good times and made-from-scratch food.

It's all about hard work, an honest approach and a commitment to quality in everything we do. Good enough isn't good enough for us, and it sure isn't good enough for you.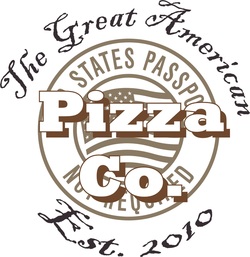 August 2014, BRUNSWICK, Ohio -- "When Mark decided to quit his position with a chain of pizzerias, he and his wife, Amber, decided they could do better ~ be more original. Soon afterwards in 2010,
The Great American Pizza Company
at 1035 Pearl Road, Brunswick, was born. Originality came in the way they conceived their themes for unique pizzas. Yes, the restaurant's menu covers the traditional bases, offering classic pies made with all the usual toppings.
Great American gives a hat tip to the nation's cities, through a coast-to-coast tour. The restaurant's specialty pizzas are named for Detroit, Honolulu, Kansas City, Santa Fe, Laredo... a list of more than 20 regional interpretations, says Mark. That explains The Bismarck, the wild card pizza he served. It's so named, "because that's where most of the wheat for the noodles and crust comes from." One glance explained the "crust" part, but noodles? Turns out the pie is loaded with heaps of spaghetti and meatballs, and made with a tasty spaghetti sauce, all topped with cheese. A lofty, crisp crust and lots of decent sauce forms the base for Great American's Cheese Pizza -- a very cheesy pie with nice "stretch" to every bite. They only use 100% whole milk mozzarella cheese. And for the pizza that best represents their shop: their Chicago Deep Dish Pizza. "This is our signature pizza," Mark announced when he set it on the table. His pride is justifiable. With a beautiful crust easily 3-inches tall at the edges, it was absolutely loaded: a full layer of thin pepperoni slices covering the bottom then filled with sausage, ricotta, mozzarella, mushrooms... A thick blanket of sauce (which, by the way, didn't produce the messy landslide I was imagining) topped the whole mélange, crowned with an appealing dusting of grated cheese. Unless you're a real trencherman, this is knife-and-fork territory. Even the smallest slice was big - a real one-and-done wedge. But oh, a pie to slowly enjoy."
---
"VOTED BEST PIZZA ON CLEVELAND HOT LIST".....cleveland plain dealer 2017
Joe Crea, Northeast Ohio Media Group, August 27, 2014
Chicago-Style Deep-Dish (The Great American Pizza Co., Brunswick) - OK, repeat: "Chicago-STYLE." It's been years since I've actually eaten a deep-dish pizza in Chicago, so this is only a stylistic comparison - and it stood up well. A beauty of a crust, nearly 3-inches tall at the edges, and it's really loaded with a full layer of pepperoni, sausage, ricotta, mozzarella and mushrooms. Plus a thick layer of intensely tomatoey pizza sauce and a dusting of grated cheese on top. On first glance, it promised to be a messy landslide, but the slices held together neatly. Throw in a tossed salad, and one slice is a hearty meal. Very tasty.
FRANCHISING OPPORTUNITIES AVAILABLE